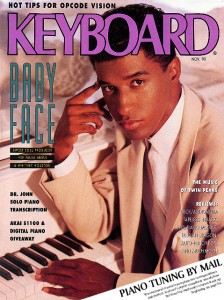 I think the Randy Potter course is an extra-ordinary achievement, a terrific investment for anyone who wants to become a piano technician or upgrade their professional skills, and an unbeatable value for the price. Not only does it bring together more information about piano technology than has ever existed in one place, it does so in a philosophical and ethical context conducive to producing craftspeople who will be a credit to their profession, and provides a firm practical foundation for their business success. Combined with plenty of practice, apprenticeship and continuing education, this course is one of the best vehicles available today for learning piano technology.
Larry Fine, RPT
KEYBOARD Magazine
Read the full RPSPT review from Keyboard Magazine!
Your course is really top drawer. I have spent a lot of money for things that weren't as good for me. I think every tuner, and every responsible R.P.T., ought to take this course. You have done a tremendous service for the piano tuning community. The tuning DVD is the best tuning class I have ever seen. Somebody ought to tell you this is a top notch piece of work. It is high time somebody did it!
Karl Roeder, RPT, Graduate
Steinway & Sons, Concerts & Artists Division, Steinway Hall
Manhattan, New York
I just called to say "Thank You". I just passed my PTG Tuning Exam, and I am very happy about that. And I am very grateful for your course and for all your help.
Jean-Luc Matton, RPT, Graduate
Albuquerque, New Mexico
Randy, this is a great idea. There's just nothing else like this available! I'm glad we can use your course with our students. This becomes a great reference manual for them. This is the most complete program for training students I have ever seen. It will really enhance our program.
Larry Crabb, Jr., RPT
Larry Crabb School of Piano Technology
Atlanta, Georgia
I am very pleased to make recommendations, especially for your tuning / technician course which is very much a best buy. Do you compare your charges to present day college training courses? Your fees are quite low in comparison with other professional training I am aware of.
Don Loftus, RPT
Coos Bay, Oregon
I am convinced that you have the most comprehensive course that I have seen. What I would have given for help of that magnitude when I was learning! Your idea of videos along with your test and apprenticeship situation sounds great. Be assured that I will gladly point inquiring people wanting to learn piano technology to your excellent course of training.
Willard Leverett, RPT
Author "How to Buy a Good Used Piano"
Arvada, Colorado
The course continues to be enjoyable and helpful…I am a much better technician than I was even a year ago…Thank for being there when I needed you.
Earl Kallberg, RPT, Graduate
San Diego, California
I went away to (a residence school) for a year. I wish your course had been available then. Now I recommend those wishing to become piano technicians to take your course instead.
Dave Peake, RPT
Portland, Oregon
I want to congratulate you on your outstanding and very detailed piano technology course. I feel very fortunate to have discovered it and appreciate all your continued support.
Ruben Melgar, Assoc. Graduate
Los Angeles, California
Thank you for your course. I enjoyed it and I learned a lot. It is well written and contains lots of information. I have read almost every book written about piano technology and still I found new techniques and methods.
Uri Miles, RPT, Graduate
Tuning Instructor
Tel Aviv, Israel
As I mentioned before, this course is unquestionably the most complete and best organized of any available in the U.S.
Tom Fleming, Assoc., Graduate
Aurora, Colorado
Three weeks ago I took and passed my R.P.T. Exams. Thank you very much for your help.
Rejean Doyon, RPT Graduate
Warwick, Quebec, Canada
I am enjoying the course very much! It is very well done! I have been through a four year college program and have received a Bachelor of Science degree, yet nothing I did during that time is as clear and well-written as what I am receiving from you!
Lana Newcom
Steelville, Illinois
I have now seen all the DVDs listed on the Loaning Library form. This service is another fantastic aspect of being a Potter School student/graduate.
Tom Young, RPT, Graduate
Hayward, Wisconsin
You should know that I really enjoy taking your piano technology course. Every fundamental is explained clearly and cleanly. It is very comprehensive and extremely detailed. It is a real confidence builder to be able to learn the right practices from a professional.
David Chadwick, Assoc., Graduate
Cumberland, Maine
I like this course very much and enjoy the style of writing. There certainly is a lot of material, and it is very helpful, especially when you share past experiences.
Daniel Hallett, III, Assoc., Graduate
Meadville, Pennsylvania
I received my diploma, for which I thank you immensely. To say that I am pleased or happy would be the understatement of the year. Overjoyed! Ecstatic! As you know, I had already been out doing tuning jobs, even before finishing the course. I have had a slowly increasing volume of business. This steady flow already more than justified the cost of the course, and the amount of time it took to complete. If you ever have anyone who wants to know if the course is worth the time and effort, please feel free to give them my number. I will be more than happy to tell them what it has done for me.
Robert Marlin, Assoc., Graduate
(Student when above was written.)
Maitland, Florida
I thought you might like to know that my business is going really well. I am not yet tuning on a regular basis, but a substantial portion of my gross income comes from repairs that I have learned to do from taking your course.
Don Burke, Assoc., Graduate
Hillsborough, North Carolina
Thank you very much for your promptness and your help. This course truly is one of the best investments I have ever made.
Doni Nuttall