Cunningham Piano Factory & Restoration Center
Philadelphia, Pennsylvania • April 30 – May 6, 2017
Since 2015, we have held our popular week-long, intensive, hands-on training seminar to the Cunningham Piano Factory and Restoration Center in Germantown, Philadelphia, Pennsylvania. Cunningham began making pianos in 1891, and over the years acquired and built pianos under the names of Girard, Forrest, Painter & Ewing, Overbrook and, of course, Cunningham. While they no longer manufacture at this plant, they still maintain their  marque, with their full line of Cunningham pianos produced for them, which they inspect and service upon arrival, including their new flagship 9-foot concert grand.
In addition to the one-on-one tuning, repairing, regulating, voicing and business practices training students have received in our hands-on seminars over the past 25+ years, students will also get the opportunity to study in a real piano factory, which is now a complete rebuilding and restoration facility. Depending on what the rebuilding technicians have scheduled while we are there, students may get to see pinblock installation, restringing, hammer hanging, hammer shaping, voicing, and other major rebuilding processes taking place while they are here for the seminar.
Beginning and Intermediate Training Seminars
Many technicians have said they would like to get personal, one-on-one, hands-on training in tuning and regulating, but feared their skill level was not high enough to attend our Advanced seminar; so we developed a Beginning and Intermediate Training Seminar to meet that need.
Beginning in 1995 we began offering both programs during the same week. We are scheduling class and individual sessions to allow students maximum opportunity to get the training and personal attention – regardless of their current skill level. A technician with advanced level tuning skills but lower regulating skills, for example, will be able to receive advanced personal training to hone their tuning skills yet study regulating techniques at the level they are comfortable with.
Technical Exam Preparation Day:
One of the goals of the seminar is to prepare students and technicians to take and pass their Piano Technicians Guild Registered Piano Technician Exams, and many students do so after they return home. This year we will be having a hands-on "Technical Exam Preparation Day" that is specifically designed around the PTG's Technical Exam.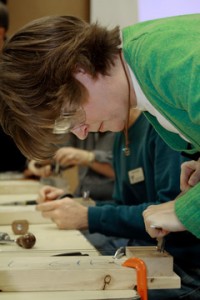 The PTG Written Exam:
The local PTG chapter will offer the PTG Written Exam during the week. You must be a PTG member and have your membership number, in order to take the exam.
Enrollment Requirements:
Enrollment is open both to technicians who have taken, or are currently taking, either our Beginning or Continuing Education training program – and also to technicians who have not taken our course.
In order to assure maximum benefit to each student, students registering for the Beginning and Intermediate Training Seminar should have a basic understanding of tuning, repairing and regulating which you can gain from studying our home study course. Beginning and intermediate students are not expected to have much hands-on experience in either of these areas when they arrive – you will get that during the seminar. (We have had students attend the Beginning seminar who are just starting out and have no experience at all.)
We also have an Advanced Tuning Seminar, available to students who want to prepare to take, and pass, the PTG Tuning Exam.
Technicians registering for the Advanced Regulation Seminar (in August 2017) should have already attended this seminar as a beginning or intermediate student, and have intermediate skills in these areas; tuning, action repairing, and vertical and grand regulating. In order to receive the most benefit from participating, Advanced Regulation Students will benefit greatly if they have at least 150 tunings for clients prior to attending this seminar. This is an intermediate and high-level training program and is intended to build on and refine the basic knowledge, skills and techniques you have when you arrive – to the point that you can pass your PTG Regulating Exam! AND you will be prepared to do concert quality regulating work.
Registration:
Registration is on a first received basis, so we recommend you register as early as possible. Please use the Intermediate/Advanced Training Seminar Registration Form to register. Most seminar spots are typically filled 2-3 months in advance, though we will accept registrations later if spaces are still available, or if we have a cancellation. If you are planning to register, but for some reason cannot do so at this moment, please contact the school. Our guaranteed registration cut-off date is March 1, 2017. Students are accepted on a first-come, first-served basis, and you may be accepted after March 1 only on a space-available basis. Class space is limited, so to insure your spot we recommend you register early. (Every year we have to turn away students who want to attend.)
Tuition & Room and Board Costs:
$1,075.00
RPSPT Student Rate. Technicians enrolled as either a Beginning Student or Continuing Education (Intermediate) Student with our school. This includes both current and former students and graduates.(Includes $100 non-refundable Registration Fee. No refund after February 15, 2017.)
$1,175.00
Non-RPSPT Student Rate. Technicians not enrolled as either a Beginning Student or Continuing Education (Intermediate) Student with our school. Includes additional training material, which will be sent prior to the start of the ATS/ITS, to assist you in your pre-seminar study. $100 credit will be given to ITS/ATS registrants who later enroll as students of the school.
(Includes $100 non-refundable ATS Registration Fee. No refund after February 15, 2017.)
$675.00
Room and Board at seminar hotel, including seven nights lodging, Sunday April 30th through Sunday morning April 24th, and three meals daily, Monday through Saturday, and breakfast Sunday morning. Check-out will be Sunday, May 7th.
$525.00
Room and Board for spouse, if they are coming with you and plan to stay at the seminar hotel. Includes shared hotel room, breakfasts and dinners taken with the group, and graduation banquet dinner. Does not include lunches for spouse.
$275.00*
Single Room Supplement, for those who wish to have a single room.
$255.00*
Lunch and Dinner Supplement, Thursday – Tuesday, for local students staying at home, with relatives, etc., but eating lunches and dinners with the group. (Note: Students must discuss particulars with Randy prior to including this option.)
*Estimated costs
What is Included:
Tuition cost includes all instructional fees, including about 60+ hours of private and small group advanced tuning and regulating training during the week, Advanced Training Seminar syllabus and notebook, supplies used during the week. A wide variety of new pianos are available for our use including Knabe, Charles Walter, Cunningham, Estonia, Schimmel and Bösendorfer, as well as other brands of used and rebuilt/restored pianos. In order to give students as much variety as possible, students will have different practice pianos, including grands and verticals, during the week.
Student-to-teacher ratio will be about 6-to-1. There is a limit of 18 students for this seminar.
Room and Board cost includes double occupancy room at the Best Western, plus three meals a day Monday breakfast through Sunday breakfast. Private rooms are available for an additional charge (of about $275*, see details, above).
Saturday evening Graduation Banquet and Certificate of Completion.
Transfers to and from the hotel and Cunningham Piano and restaurants each day.
Intermediate or Advanced Training Seminar Certificate:
Students completing the program will receive a Beginning, Intermediate or Advanced Training Seminar Certificate of Completion, as appropriate.
What to Bring:
A specific list of recommended tools and supplies will be sent to you along with your registration packet after your enrollment form is received and accepted. You will not need to purchase any tools prior to attending this training seminar. In fact, Randy recommends that if you are thinking of buying any specific tools, first attend the seminar and try them out, then decide if you want that tool, or a different one.
Lodging and Meals:
This year we will be staying at the Fort Washington Best Western Hotel in Philadelphia. We have put together a room and board package that includes transportation to and from the airport shuttle stop four blocks from the hotel (in most cases), lodging at the Best Western starting Saturday, and breakfast, lunch and dinner, beginning Sunday morning and ending Sunday morning the 6th. It also includes transportation to and from the hotel to Cunningham Piano each day, lunches and dinners, and other events we hold during the week.
Classes are scheduled to begin at 8:00 AM each day, and will continue until 9:00 PM Sunday-Thursday, and until 5:00 PM on Friday, with one-hour breaks for lunch and dinner.
There will be a closing, Graduation Banquet on Saturday evening. This will end about 9 PM.
Students who live in the local area may live at their home, though it is not recommended. There is a fee for meals and other amenities included in the program. All other students will be staying at the hotel with our group.
Transportation:
Students are responsible to provide their own transportation to and from Philadelphia, PA.
For those who are flying in, you may book your airfare any way you wish. However, we recommend you contact our favorite travel agent, Lois Richardson at AAA, 800-464-1303, or direct at 541-598-3731. Tickets may be charged to your credit card, or paid for by check, and will be mailed via Certified Mail, or sent via email. Electronic tickets are also issued. Lois has a 100% track record of getting our students in and out appropriately, and at the best prices. (Over the years, a number of students thought they could get a better price somewhere else, or by booking their own tickets. Many paid more than they should have, and several arrived at the wrong airport, or on the wrong day, and had to rent cars for the week, pay for additional hotel days, or missed out on part of the program.) I recommend you use caution if buying "discount" airfares, as they come with unacceptable requirements, in my opinion. Such as if you need to change the date or time you lose your whole ticket, even if you were sick or had an emergency – and often they cost more than tickets direct from the airline. Airlines charge a change fee if you must change, but you do not lose your ticket. I use those "discount" sites (sometimes) for price or flight comparisons – then use Lois, or the airline directly, to buy the ticket.  (Note: The "discount" booking companies prices are the same, and sometimes higher, than you will pay when booking directly with the airline, or through Lois. Plus, because she can search all the airlines for best prices and flights to meet your schedule requirements, she can save you both time and money. And in case you are wondering – "NO!", I have never asked for, or received, any money, or gratuities of any sort for referring clients to Lois. I recommend her, or the other agents at this particular AAA agency, because they are professionals at what they do. You do not need to be a AAA Member to use her services.)
Please arrange to arrive at the Philadelphia Airport no later than 4:00 PM on Sunday, April 30th, and leave on Sunday, May 7th, for the regular seminar. Due to the time it takes to shuttle from the airport to the hotel, students arriving at the airport after 4 PM Sunday may miss dinner with the group, and might miss part of the opening session, which starts at 6:30 pm.
After getting settled into our rooms, we will leave about 5:00 PM for dinner near or at the hotel.
Questions:
If you have any further questions, or require additional information, please feel free to call the school during normal business hours: Monday-Thursday, 9:00 AM – 3:00 PM and Friday 9-noon, Pacific Time. If nobody is in the office when you call, or if we are on another call, please leave a voice message. Someone will call you back as soon as we can.
Licensed by the Department of Education:
The Randy Potter School of Piano Technology, Inc. is licensed by the Oregon State Department of Education. Any inquiry about the school or its programs may be made in writing to the Randy Potter School of Piano Technology, Inc., 61592 S.E. Orion Drive, Bend, Oregon 97702, or to the Superintendent of Public Instruction, Department of Education, 700 Pringle Parkway SE, Salem, Oregon 97310-0290. [ORS 345.117).